London's Top Sights
---
---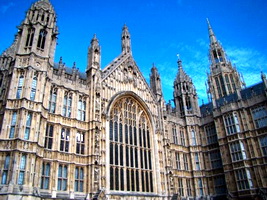 Here are the most visited sights in London. These are the ones where you need to be photographed to convince your folks back home that you have actually been to London. If you are new to London or on a short visit, just pick any of these that you can manage to see. Be aware that it can take longer than you might think to get to where you want to go and that you are likely to spend more time there once you have arrived. Allow half a day for each museum or maybe all day. After you have been to all these you can come back again and start on the rest. London is infinite.
It is better if you book any tours and entrance tickets in advance or online as you have a chance of significant discounts.
1. Buckingham Palace/Changing of the Guard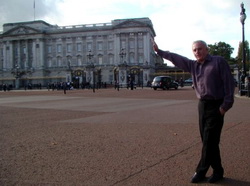 Buckingham Palace has been the official residence of the sovereign since Queen Victoria moved here in 1837.The Palace has over 600 rooms and beautiful gardens. A small section, which includes the State Dining Room, Drawing Rooms and Ballroom, is open from 09.30 -16.30 from the end of July till late September, while the Queen takes her annual break at Balmoral, Scotland. This keeps the vast majority of the rooms away from the public gaze but it will give you a interesting flavour of what we are all missing. There are also private tours of the State Rooms.
The Changing of the Guard Ceremony often with marching bands, takes place at 11.30am sharp every day from April to July and every other day August -March. Although if the weather is terrible they give it a miss. Get there well in time because it is packed with people every day.
Tel:+44 (0)2077667300
(Tube: St. James' Park/Victoria/ Green Park).
2. London Eye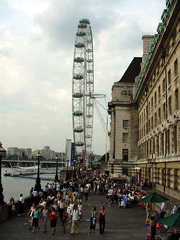 Since the Millennium Wheel as it was called, opened in 2000 it has become one of the most visited attractions. I have been on it twice. The views are fantastic. If the weather is clear you can see up to 25 miles and at night the lights of London are spread before you like a jewelled tapestry. The capsules, or pods, hold up to 25 people. They are all air conditioned and move very slowly until your 30 minute revolution is complete. They are very stable. If you suffer from vertigo, acrophobia, claustrophobia, agoraphobia or even xenophobia or all five of them try and forget them for half an hour, it will be worth it.
Open 10.00-20.00. From June -September 10.00-21.00.
Tel:+44 (0)8705000600
(Tube: Westminster/Waterloo & National Rail)
3. Houses of Parliament/ Big Ben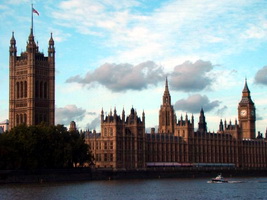 The fabulous neo- gothic of the Palace of Westminster, to use its correct name is amazing. It was redesigned by Charles Barry and Augustus Welby Pugin and rebuilt after fire had destroyed the previous building in 1834.
This is where the political decisions of the Realm are made in the House of Commons and House of Lords (Tel: +44 (0)2072193107). I recommend taking a tour. You walk through hundredsof years of Parliamentary History with great art work and carvings all around you. You can actually stand on the spot in Westminster Hall where King Charles I, Sir Thomas More, Guy Fawkes and William Wallace (Braveheart) were tried.
Of course Big Ben is probably the most famous London landmark. Big Ben is actually the enormous bell inside St. Stephen's Tower.
Open during the summer parliamentary recess for tours from August-October until Parliament reconvenes.
Monday, Tuesday, Friday and Saturday 9.15am and 4.30pm.
Wednesday and Thursday 1.15pm and 4.30pm.
Tours also take place in the mornings before Parliament sits when in session.
Tel: +44 (0)2072194272
(Tube: Westminster)
4. Westminster Abbey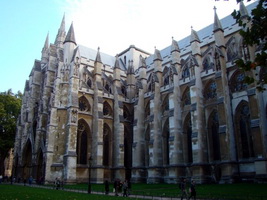 The Gothic, Collegiate Church of St. Peter in Westminster, Westminster Abbey, was originally built by Edward the Confessor in 1065. The present building dates from 1245. Edward's coronation took place here after which he only lived eight more days. He is buried in the altar chapel. Westminster Abbey has seen the coronations of virtually every sovereign since William the Conqueror. For almost five hundred years, beginning in 1272 the Kings and Queens of England were buried here. The Abbey has always been regarded as the symbolic home of the spirituality of the nation. There are those who have achieved high esteem are also buried here in their own separate sections. There is Poets' Corner, Scientists' Corner and Musician's Aisle plus the 900 year old Cloister Garden and the Abbey Museum.
For guided tours telephone +44 (0)2072227110.
Tel: +44 (0)2077225152
Opening times: Monday/Tuesday/Thursday/Friday 09.30-16.30.
Wednesday-09.30-19.00. Saturday-09.30-14.30.
No tourists on Sunday. That is God's day.
(Tube: St. James' Park/Westminster)
5. Piccadilly Circus (Tube)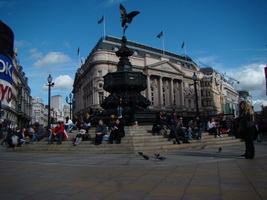 The Statue of Eros, the memorial to the philanthropist Lord Shaftesbury, has stood at one of the busiest traffic junctions in the world since 1893 (apart from a couple of temporary removals). One of the favourite meeting places in the capital. Once you have taken your photos you can move on to somewhere much more interesting like……
6. National Gallery/Portrait Gallery/ Trafalgar Square/Covent Garden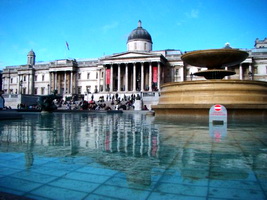 These are very close to each other. Visit the National Gallery (Tel +44 (0)2077472885), open daily10.00 -18.00, on Fridays 10.00 -21.00. with its thousands of paintings by the masters, pop in to Covent Garden for lunch then visit the National Portrait Gallery (Tel: +44 (0)2077360055) open daily 10.00- 18.00 /10.00 -21.00 on Thursdays and Fridays and admire the 10.000 specimens of faces from the last 500 years. You can also lunch in the National Dining Rooms which are in the Sainsbury Wing or lunch with a difference in the Crypt of St. Martin in the Fields.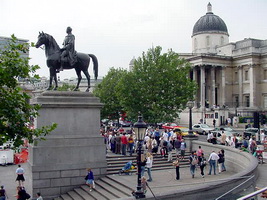 Trafalgar Square is famous for its fountains and Lord Nelson standing on his column surrounded by Lions. The Statue of King Charles I on his horse is where all the distances to and from London are measured. Trafalgar Square has always been known as the 'people's square'. This is where a lot of concerts, political rallies and protests take place and where the New Year Celebrations happen, so don't expect to stroll across around midnight on 31st December.
Covent Garden is a fascinating historical area centred around its Piazza with lots of interesting little streets around. Plenty of restaurants, shopping and street entertainment.
(Tube: Charing Cross)
7. British Museum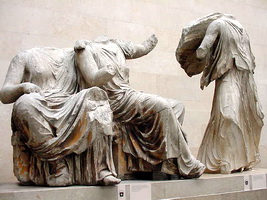 This is a must visit. It is enormous. The fantastic Norman Foster designed Great Court in the central area creates a surreal feeling of protection over the most precious of exhibits from prehistory and world civilisations which have long since disappeared. The Rosetta Stone, Elgin Marbles, massive heads of the Egyptian Pharaohs, Assyrian Kings, poor old Lindow Man and thousands more. One visit will probably not be enough to what may be the world's greatest museum.
Open every day 09.00 -17.30. 09.00- 20.30. Thursday& Friday.
Great Court open 09.00-18.00 Sunday-Wednesday. 09.00-23.00 Thursday-Saturday.
Tel: +44(0)2077238000 or for tours +44(0)2077238181.
(Tube: Tottenham Court Road/Russell Square)
8. St. Paul's Cathedral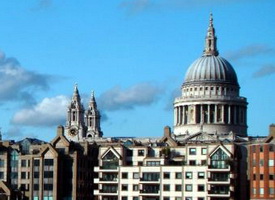 Built by Sir Christopher Wren the St. Paul's that you see today, is much smaller than its predecessor which was destroyed in the Great Fire of 1666. There is a rule that nothing is allowed to be built that will obscure the view of St. Paul's from certain vantage points around London. That is why the familiar mass of its famous dome still stands out against the many new glass structures in the City. The Duke of Wellington and Admiral Nelson are buried here. Winston Churchill's funeral took place here. There is another fantastic view of London from the very top of the Dome which you reach after climbing 530 steps but you can stop around half way in the Whispering Gallery. If you whisper close to the wall you can be heard on the curving wall on the other side.
Open 08.30-17.00 Monday to Saturday. This is subject to certain events that may disrupt normal tourism such as a Royal or Political memorial service or wedding.
Tel: +44(0)207736 4128
(Tube: St. Paul's)
9. Tower of London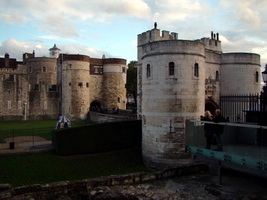 You cannot miss this even if you go nowhere else. The history of this bastion is a theatre of power, imprisonment, violence, execution, torture, secret murders, political intrigue and ghostly comings and goings. Where Royals and traitors have met their deaths by beheading or even more gruesome methods. Some suffered just because they disagreed with the King, or were a threat to Royal Ascent and some because they were merely foreign.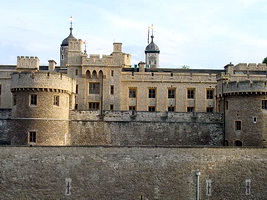 Fortifications were added to the original Great Tower built by William the Conqueror from 1078. Now there are 21 towers. See the Crown Jewels in the Waterloo Barracks, the Ceremony of the Keys which takes place every evening, hear the Legend of the Ravens, the Mystery of the Princes in the Tower and see the graffiti of the condemned on the stone walls. Take a tour guided by a Yeoman Warder also known as a Beefeater. There is an incredible amount to see.
Open March- October- Sunday/Monday 10.00-18.00
Tuesday- Saturday 09.00-18.00.
November-February -Sunday Monday10.00-17.00
Tuesday-Saturday -09.00-17.00.
Tel:+44(0)2077097765
(Tube: Tower Hill)
10. Tower Bridge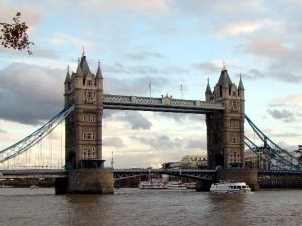 Such a recognisable feature of the London landscape often mistaken for London Bridge as in the song, which is actually the next bridge upstream which has itself been mistaken for the bridge that some American millionaire dismantled and reassembled in the desert somewhere in Arizona. Tower Bridge, with a bascule mechanism so it can lift and clear the way for tall ships, was completed in 1894. See the exhibition which is open April to October from 10.00-18.30 and November to March 09.30-18.00.
Tel:+44 (0)2079403985
(Tube: Tower Hill)
---
---
11. Shakespeare's Globe Theatre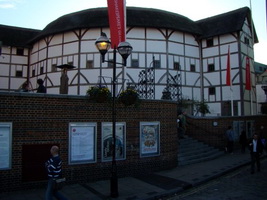 I love this place. For lovers of Shakespeare it doesn't get any better. Thank you Sam Wanamaker for your great efforts to recreate this fine old theatre. Even though you never lived to see its completion, the world will be eternally grateful for your determination.
The old Globe closed in 1642. The New Globe has been built in the original style using the traditional materials, with no regard for the 'softy' modern public, as it has retained the 'groundling' open area where you will get wet if it rains while you are watching the play. There is also the year round Globe Exhibition open 10.00-17.30.
Open May to October for performances.
Tel:+44(0)2079021500
(Tube: London Bridge/Southwark)
12. Madame Tussauds/Stardome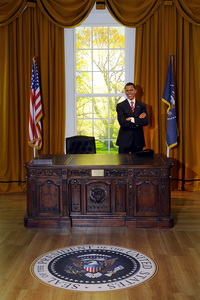 Some of the longest queues are outside the waxworks every day of the year apart from Christmas Day. Tussauds arrived in London over 200 years ago and it is amazingly popular. It is a very fluid exhibition of historical figures and celebrities, in that if someone has been fortunate enough to have stimulated the public eye thorough sustained media coverage and moreover, actually possess some talent, then it is likely that their wax figure will be created and displayed until their sun finally sets. For example you can no longer find Bill Clinton, with his larger than life head, carrousing at the celebrity cocktail party, but as you can see Barack Obama is happily portrayed in the oval office. But where is George Bush? There is the Chamber of Horrors in the basement and perhaps he is down there learning what the line is between torture and enhanced interrogation in case he is ever hauled before the World Court. Don't miss the simulated Spirit of London Taxi Ride which travels through London History.
Opening times-Peak 09.00-19.30.
Off Peak -09.30-19.00.
Tel:+44(0)870400300
The Planetarium or Stardome is a fascinating audio and visual display of the heavens.
+44 (0)8701413077
(Tube: Baker Street)
13. Natural History Museum/ Victoria & Albert Museum/ Science Museum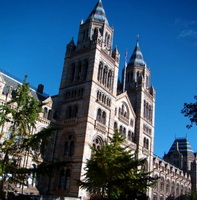 I have grouped these together because they are close together. You might have a preference or you might want to see all three. The Natural History Museum is one of the most beautiful buildings in London. It contains thousands of examples from the natural world. It is particularly popular with children, especially the Dinosaur Gallery.
Tel: +44 (0)2079425725
Open 10.00-17.50.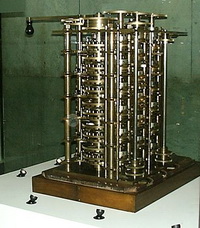 The Science Museum is also great for children. It brings to life the past engineering achievements going back to the early years of steam power and has simulators, an IMAX cinema and many hands on exhibits, plus the Apollo 10 Space Command Module. This is also the place where you see the things you were using when you were yourself a child which have now become museum exhibits especially if you are as old as I am. Make sure you see Charles Babbage's 'Difference Engine' a steam powered computer designed in the early 19th century!
Tel:+44(0)8708704868
Open 10.00-18.00 daily.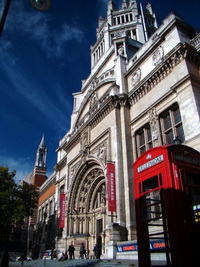 The Victoria & Albert Museum has visible shrapnel damage from World War II. It is dedicated to the appreciation of art, design and fashion throughout the ages. It has 150 galleries displaying 4 million objects. Architecture, Elizabethan Costumes, Islamic Textiles, Oriental Swords, Sculptures, Carpets, Ceramics and the other 3 million, plus a large collection of around 500.000 photographs dating back over 150 years.
Tel: +44(0)2079422000
Open 10.00-17.45 daily.
(Tube: South Kensington)
14. Tate Modern/Tate Britain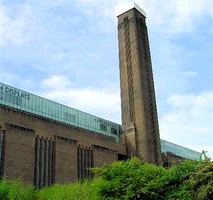 The Tate Modern Art Gallery is inside former Bankside Power Station on the South Bank and is devoted, as you would expect to modern and contemporary art, with around 60.000 exhibits. The conversion of building itself from the old power station was a tremendous achievement and I think that is the biggest success. I am left cold much of the time by the style of art within but with over 5 million visitors per year maybe I am missing the point.
Open 10.00-6.00 Sunday-Thursday. 10.00-10.00 Friday & Saturday.
Tel: +44(0)2077878000
(Tube: Southwark)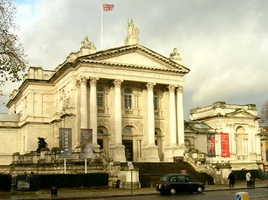 If you prefer more traditional art then the Tate Britain stands quite a way away opposite Vauxhall Bridge on Millbank. It houses among others Gainsborough, Constable and Reynolds collections and the Clore Gallery holds the works of Turner. There are some modern displays however those of Francis Bacon and David Hockney and Lucien Freud to name but three.
open daily 10.00-17.50
Tel:+44(0)2078878000
(Tube: Pimlico)
15. Royal Albert Hall & Albert Memorial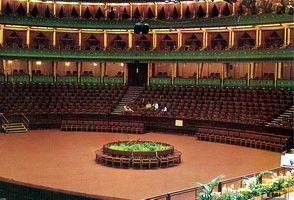 The unique Royal Albert was dedicated to Prince Albert, the deceased husband of Queen Victoria as a centre for the arts and sciences in 1871 but it became a concert hall. To its detriment, unfortunately its main assets were its terrible acoustics. To rectify this problem a massive refurbishment installed enormous upside down mushrooms on the ceiling. This was completed in 2004. It is most famous for the annual Promenade Concerts which take place every summer culminating in the greatcelebratory 'Last Night' in September.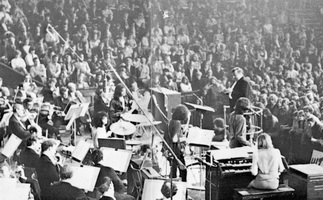 There are also many Rock Concerts and performances of long established singers such as Andy Williams. This is where in 1969 Deep Purple and the Royal Philharmonic Orchestra conducted by Malcolm Arnold performed Jon Lord's Concerto for Group and Orchestra for the BBC which to some people is Deep Purple's finest album and an amazing fusion of rock and classical music. Cream played their two farewell concerts here. The Beatles and the Rolling Stones played the only concert they ever did together here in 1963. The Jimi Hendrix Experience with Noel Redding and Mitch Mitchel played their first European concert, Pink Floyd were banned for life for setting off two cannons in the hall, and Led Zeppelin's concert that was filmed for a video in 1970 took thirty years to be released because it took that long for the technology to develop far enough to fix the terrible sound quality.
We went to see the Cirque du Soleil here in 2005. We were seated so high up that my wife could not bring herself to look down so she 'watched the show' with her eyes closed and then bought the video. I just thought I would warn you. Tel:+44(0)2075898212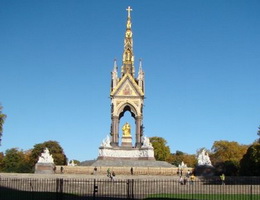 The Albert Memorial is just across the road in Kensington Gardens. It was completely refurbished in the late 1990s and is particularly attractive when the elaborate gold, which adorns it shines in the morning sun and at night when it is illuminated. But was it worth the estimated eleven and a half million pounds? Please let me know your opinion.
Open daily 09.00-21.00.
+44 (0)2074950916
(Tube: South Kensington)
16. Regent's Park and London Zoo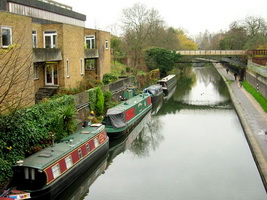 Here you have the opportunity to relax and take a walk through a beautiful London Park. London' s attractions are not confined to the interiors of museums and the like. There are lots of green spaces to take a breather. In Regent's Park there is the Open Air Theatre where you can see Shakespearean Plays performed in summer. The tranquillity of the Grand Union Canal winds its way around the north side and much of the rest of its horseshoe shape are palatial Regency Buildings. The London Mosque is at Hanover Gate. There is also the ornamental lake, tennis courts and restaurant.
Tel:+44 (0)2074867905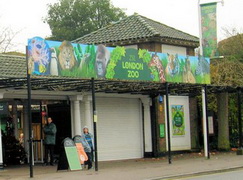 London Zoo began to repackage itself in the 1990s. This is an ongoing process and has brought into being a more modern approach compared to the old attitudes of locking animals up, and has created a more open environment for the species. Highlights are Gorilla Kingdom, the Clore Rainforest where allsorts of animals are wandering around, the Penguin Pool, Butterfly Paradise and Meet the Monkeys.
Tel: +44(0)2077223333
(Tube: Regent's Park/Camden Town/Baker Street/Marylebone/ St John's Wood)
17. Hyde Park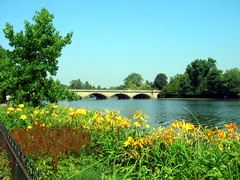 London wouldn't be London if it wasn't for Hyde Park. If you want to escape the hustle and bustle, you can chill out here for hours. Where once the population took doubtable refuge from the Great Plague and where Henry VIII hunted his prey, you can wander through the gardens and fields, cycle, jog, go boating on the Serpentine, swim in the Serpentine Lido (open July & August) or enjoy a quiet picnic, lie back on you deck chair and sleep, perchance to..…..not just for picnics though, the Lido Café is situated near the Princess Diana Memorial Fountain. The Serpentine Bar and Kitchen is at the eastern end of the Serpentine by the Dell and there is a small café at the Hyde Park Tennis Centre near the Alexandra Gate. You can see the Household Cavalry leave the Hyde Park Barracks on their way to Whitehall for the changing of the Guard. Hyde Park is a fantastic open air concert venue. The open air BBC Last Night of the Proms is broadcast from here and the Albert Hall in September, linking to cities all over the UK. There is the Winter Wonderland Funfair at Christmas. And who can forget the Park's Rock and Roll history? You might see yourself here in your mind's eye as a long haired hippie, when you were here at one of the concerts all those years ago( but have you told your children?). If you have something on your mind you want to shout about, you can do it at Speakers' Corner at Marble Arch on your soapbox on Sunday morning.
Open 05.30-24.00.
(Tube: Lancaster Gate/Marble Arch/Hyde Park Corner/Knightsbridge)
18. Kensington Palace & Kensington Gardens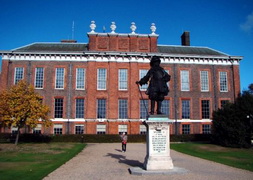 Of course just across the road from Hyde Park is Kensington Gardens. Kensington Palace was built in 1605. Although Buckingham Palace became the principal Royal Residence Kensington Palace has played a significant role in Royal History for over 300 years. It was the home of William III and Queen Mary of Orange and successive monarchs until George III. Princess Victoria was born here in 1819. She was baptised in the beautiful Cupola Room, where initiations of the Knights of the Garter used to take place. It was here one morning in 1837 that the Princess was awakened to be told that she had become Queen. More recently it was the home of Princess Margaret and Princess Diana. You can see some of Diana's dresses in the Royal Ceremonial Dress Collection. Displayed in the King's Long Gallery are paintings from the Royal Art Collection.
It is worth taking a stroll through Kensington Gardens to see the Sunken Garden, the Round Pond and the large conservatory The Orangery, where you can have tea. For the children there is The Princess Diana Memorial Playground and for everybody, the statue of Peter Pan in the setting where the story took place.
Tel+44(0)870 7515176
Open 10.00-17.00.
(Tube: High Street Kensington/ Notting Hill Gate/ Bayswater/ Queensway)
19. Museum of London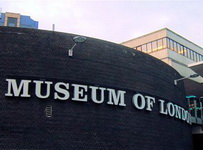 The Museum is located in the City at the St. Paul's end of London Wall. This is a museum for all ages with great exhibits, things to do and to play with. The museum traces the history of London from prehistoric times through Pre-Roman and Roman London ,the Danes, the Vikings, to the Great Fire in 1666. From 2010 the new galleries will be open which will complete the time journey into the present. The fabulous three tonne ornate Coach of the Lord Mayor of London is on display here.
Open 10.00-18.00.
Tel: +44 (0) 8704443851
(Tube: Barbican/St. Paul's/Moorgate)
20. River Thames Boat Trip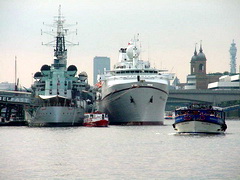 This is a great way to get a different perspective of the city and will make your visit much more complete. There are quite a lot of different trips both up river towards Hampton Court Palace and down river to the Thames Barrier. You can board at various piers, so check with the company operator where would be most convenient for you. A favourite is to go on a sightseeing cruise from Westminster Pier down to the O2 Arena or beyond to the Thames Barrier. As well as the more well known sights such as Tower Bridge and Tower of London you will see how London has changed and is changing as you sail by. The new enormous glass city buildings, the old wharves once filled with ships goods from all over the world which now are fashionable apartments, where the Mayflower set sail for America, the infamous ale houses frequented by smugglers and pirates and where they where executed, plus an opportunity to stop off at Greenwich to visit the National Maritime Museum, the Cutty Sark and of course the Greenwich Meridian.
21. Take a Walk on the South Bank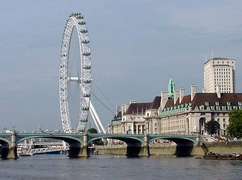 There are many walks you can take to explore London, but walking the South Bank will combine lots of sightseeing and you can visit a couple of Harry Potter locations. Especially at weekends, the South Bank is about as lively as you can get. The whole area is separated from the roads. From the South Bank Lion at Westminster Bridge all the way to Tower Bridge it is crammed with points of interest- the London Aquarium, Salvador Dali Gallery, London Eye, Royal Festival Hall, the Millennium Bridge, Shakespeare's Globe and Drake's ship, the Golden Hinde, to name just a few and loads of restaurants down by Gabriel's Wharf. The route follows the River Thames and gives great views of St. Paul's and the City of London. When the tide is low there is a sandy beach as well mainly for building sand sculptures. And don't forget you can have your very own Waterloo Sunset from Waterloo Bridge. Please email me for more detail.
(Tube: Westminster/Waterloo & National Rail)
Any questions? E-mail me
For tours, transfers and other taxi services see Dave's Taxi Page
---
---