Farther down towards Parliament Square, on the right near the Cenotaph, is well guarded Downing Street, with the Prime Minister's residence at No.10.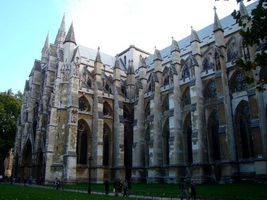 Parliament Square is populated with many statues of politicians and statesmen, among them Winston Churchill, Abraham Lincoln and Nelson Mandela. The 900 year old St. Margaret's Church, the official church of Parliament, stands next to Westminster Abbey. The Abbey was consecrated in 1065. William I was crowned here on Christmas Day 1066. From the rear of Westminster Abbey, The Jewel Tower of Edward III is just along Abingdon Street opposite the House of Lords. Passing the Victoria Tower, in the gardens to the left, by the river, is the Buxton Memorial to the Emancipation of Slaves.
If you leave Parliament Square by Broad Sanctuary, on the right is the Queen Elizabeth II Conference Centre and opposite in Storey's Gate is the Westminster Methodist Central Hall. Broad Sanctuary leads into Victoria Street. A few minutes walk along here will bring you to the Catholic Westminster Cathedral. If you walk into Palace Street on the other side of Victoria Street you will come back to the Queen's Gallery in Buckingham Gate with Buckingham Palace to your right.
St. James Square and nearby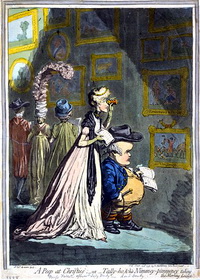 St. James is an area of many fine art galleries. The world famous Christies Auction House is in King Street. St James is also renowned for its Gentlemen's Clubs. When I say Gentlemen's clubs I am referring to the culture of luncheons and leather armchairs, not leotards and leather underwear. These clubs do not advertise their presence. They remain anonymous. One exception is the 'In and Out Club' in St. James' Square. That is not its real name, but the club used to be on Piccadilly. It received that title because of the signs at the gates, which were a separate entrance and exit. It has continued that tradition even though there is no 'In and Out' apart from by the same door, at its new location in the north -east corner of St. James' Square. At No 31 the Allied Invasion of France in World War II was planned by General Eisenhower. The statue in the centre of the square is King William III.
St. James is an area of eminent gentlemen's outfitters, shops with quality at their hearts, in St. James' Street, Jermyn Street and Duke Street St. James. Many specialise in the sale of fine shirts and hand made shoes.
Piccadilly runs across the top end of St. James' Street. To the left is the Ritz Hotel. To the right in the direction of Piccadilly Circus you will pass Fortnum and Mason (1707), the Royals' grocer. Farther down is St. James' Piccadilly, designed by Sir Christopher Wren and built by Henry Jermyn, the Earl of St. Albans, with interior carvings by Grinling Gibbons. St. James Piccadilly was consecrated in 1684 and is respected as an important counselling and advice centre. It also has a small market and a Café Nero. 99% of the coffee I consume is from Café Nero.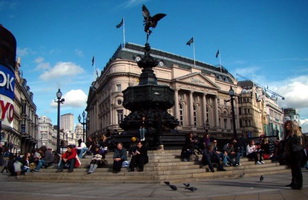 You will reach Piccadilly Circus in a couple of minutes. The Haymarket is a short distance away to the right, with its café bars and Her Majesty's Theatre, the only theatre to change its name when the sex of the sovereign changes (if you know what I mean), and also The Theatre Royal. If you turn left at the bottom Trafalgar Square is a short way in front of you. Just before you turn, look at the Blue Plaque on New Zealand House. When the Carlton Hotel stood on this site, one of its waiters in 1913 was Ho Chi Minh.
So why am I inviting you to take a walking tour when I am offering my services as a taxi guide? Well, I think it is a great way to see and also feel the city. Although I drive around all day. I like to walk as much as possible. You experience a different atmosphere, especially when you can get away from the traffic down an alleyway and find something interesting, such as the Texas Embassy in Pickering Place, at the foot of St. James' Street, said to be the best Tex-Mex food in London. Walking in London however can be tiring. If you include entrances to Westminster Abbey, Buckingham Palace, a few, or all of the other historical buildings I have mentioned, then that will be a long day. Just take your time and maybe do it over two or three days. There are enough cafes, restaurants and pubs to sustain you.
Restaurants in St. James
Don't expect to eat cheaply in St. James, but it is possible to pay reasonable prices. The restaurants complement the area to a tee, or maybe a tea, which I think is a good place to start.
Tea in the Palm Court at the Ritz Hotel at 150 Piccadilly. Gentlemen are expected to wear a jacket and tie for this elegant occasion, where you will be entertained by tasteful live music. As well as Traditional Afternoon Tea there is a varied menu which includes a Champagne Tea. The exquisite Louis XVI Restaurant is probably one of the best dining experiences in the world.
A little further along Piccadilly at No.160,in what used to be a former car showroom, if rather grand,( it did sell Bentleys),is the Wolseley, a café/bar/restaurant, decorated in the grand European style, like you might see in Vienna, complete with home made viennoiseries. The Wolseley serves breakfast from 07.00 and covers all the sessions from then on until midnight, including afternoon tea. Breakfast might be something like a simple bacon roll, or fried haggis with duck eggs; lunch maybe a hamburger, matjes herrings with pumpernickel, soup de poissons or Welsh rarebit; dinner a plateau de fruits de mer, with Beluga Caviar at the top end of the range.
Le Caprice is just behind the Ritz in Arlington Street. Reminiscent of a Manhattan piano bar, it is not as formal as the Ritz, ties not being required. Considering its location and its cool, chic reputation, prices are reasonable. Book well, very well in advance. They do a decent pre/ post theatre menu and a brunch menu which includes a pitcher of buck's fizz. Specialities are the salmon fishcakes, eggs benedict, caesar salad and steak tartare. [ see the Joan Collins Experience(s)]
Café Nikolaj at the Caviar House on the corner of St. James' Street and Piccadilly is a Russian Restaurant specialising in seafood and caviar and an impressive wine menu, so I am told.
Fortnum and Mason, Piccadilly.
Probably the most famous grocer in the world, with a fascinating history dating back to 1707. There are three restaurants, plus the 1707 Wine Bar within Fortnum and Mason. Classic formal dining, piano music and afternoon tea at the St.James' Restaurant. The Fountain is a de luxe brasserie serving breakfast, lunch and dinner, when you can enjoy romantic guitar music. The Parlour menu gives your children what might be their first opportunity to experience the high life. They can indulge themselves in delicious, gastronomic ice creams and milk shakes. You can enjoy Viennese pastries and open sandwiches, or the other way around maybe.
Green's Oyster Restaurant, Duke Street St. James.
Aristocratic in its ownership and also in its tradition, the essence of which seems to have imbued itself into its wooden panelling and seating. There are also private dining areas. At Green's you can delight in an extensive menu of oysters and seafood and traditional English Dishes of the highest quality. Game is served when in season.
Richoux, Piccadilly.
A member of the tasteful group of Richoux restaurants in London. The décor is reminiscent of the colonial France you remember from all those years ago, yet the menus are varied with continental breakfasts, eggs Florentine and the New Yorker. As well as the English breakfast other specialities like Shepherd's Pie and Fish and Chips are served. There is also a special children's menu.
The Itsu Piccadilly, by pure chance, found itself embroiled in the mystery of the death of the Russian, Alexander Litvinenko in 2006. The Itsu serves healthy Japanese sushi and noodle dishes at reasonable prices.
Ristorante Biagio, Piccadilly.
A touch of Italian nostalgia with food from Northern Italy the speciality.
Just before Piccadilly Circus is the Scotch Steak Houses.
Criterion Brasserie, Piccadilly Circus.
Neo-Byzantine architecture, with gilded ceilings and mirrors which have reflected the history which has taken place within its walls. Where the Suffragettes held meetings; where such luminaries as Winston Churchill, Lloyd George and Bertrand Russell dined and where Sherlock Holmes was conceived, in the mind of Sir Arthur Conan Doyle of course. Classic cuisine which complements the Ritz at the other end of Piccadilly.
Down the Haymarket, on the right from the Criterion is Galileo's, an Italian Trattoria, the food having a Tuscan influence. Farther down near Pall Mall is the Sports Café. This is just about as opposite as you can get to the St. James' tradition. Totally dedicated to sports from all over the world, which are shown on dozens of screens, with all the noise to go with it. Food includes burgers, nachos, barbecued ribs and steaks.
In Panton Street, a small street just off the Haymarket, there is quite a mix of restaurants. On the corner of the Haymarket, the Angus Steak House, North African at the Saharaween, the vegetarian Woodlands, the dependable Stockpot, a favourite with cab drivers and children, the long established West End Kitchen, for well priced modern European food and the Strada for quality Italian at a decent price.
In the Haymarket Hotel, Suffolk Place, is the Brumus, If you like dining surrounded by pink décor, this is the place for you. A bright, relatively new hotel with character, where they serve English Cuisine, or rather, that to which our cuisine now aspires, with a quite a bit of European influence.
The Mint Leaf, which is also in Suffolk Place, is a fashionable Indian restaurant with the accent on contemporary cuisine from all over India.
For great Tex-Mex, call in to the Texas Embassy Cantina in Cockspur Street, built on the site where the Rugby Football Union was formed. You can also but a Tex-Mex t- shirt here and take it back to Texas to impress all your friends. Also in Cockspur Street is the Thai Square which is part of the ever growing Thai Food revolution in London.
Moving towards Trafalgar Square, is the Rockwell , a brasserie at the Trafalgar Hotel with Modern European, and the Scottish themed Albannach, in Spring Gardens near Admiralty Arch, serving Smoked Salmon, Haggis etc, plus a large array of single malt whiskies.
On the other side of the Haymarket is the Japanese and noodle Wagamama in Norris Street, with Noura (Central) in Regent Street, just below Piccadilly Circus. A Lebanese experience without going all the way to Edgware Road.
In Jermyn Street, which runs parallel to Piccadilly, the Abracadabra has an extensive a la carte Russian menu which includes sturgeon and caviar. Two Italian restaurants here are classy Italian Getti, near Piccadilly Circus and at the other end near St. James' Street is Franco's. A marvellous institution, Franco's has been here since the 1940s. British and International at Ormond's (in Ormond Yard) and of course Wilton's, which has been there almost as long as St. James itself. As they say: 'Noted since 1742 for the finest oysters, fish and game'. Need I say more?
Rowley's, famous for its Entrecote with herb butter is at 113. This was the site of original Walls Butcher in the nineteenth century.
The Leyton Brasserie (International) occupies the first floor of the Cavendish Hotel. The Al Duca is just off Jermyn Street in Duke of York Street . The Al Duca has a Mediterranean Menu with an exclusively Italian wine list. The ever trendy Quaglino's of Bury Street is closer to St. James' Street. Quaglino's has an impressive stairway entrance down into a very large open dining area. Modern European Cuisine, including seafood.
The Matsuri (Japanese) is close, also in Bury Street. Great Japanese theme with waitresses wearing Kimonos.
In St.James' Street:
The Avenue. Minimalist décor specialising in high quality British fare.
L'Oranger. First class French Cuisine.
Authentic French cuisine at the Brasserie St. Jacques with Jazz on Friday nights.
Just St. James. Beautiful British food in beautiful surroundings.
Wheeler's. Established in London in 1856, Wheeler's is the heart of British tradition. Famed for its oysters and seafood.
Sake No Hana won an award for its stylishly designed interior. Excellent Japanese food and not only Japanese seating, but western as well.
From Trafalgar Square, there is a large gap to the other end of St. James, which is handsomely filled by St. James' Park and Buckingham Palace. In St. James' Park is the Inn the Park (Horse Guards Road). Traditional English food. There is also an roof terrace where you can enjoy the view.
Buckingham Gate runs next to Buckingham Palace, as well as away from it. In the part that runs away is The Crowne Plaza Hotel, which has three impressive restaurants. The Michelin starred Quilon, known for its excellent cuisine from South India, the Bank Westminster and Zander Bar, with Greek, Asian and Modern British as well as the Bistro 51, with high class traditional European, Modern British, Beef Grills and a Sunday Roast.
The Bongusto at 75,Buckingham Gate is a popular authentic Italian restaurant.
Tube: Hyde Park Corner/ Green Park/ St. James/Victoria (& National Rail)
Any questions? E-mail me
For tours, transfers and other taxi services see Dave's Taxi Page