River Transport
---
---
From its source in the Cotswolds, the River Thames flows right across Greater London from where it enters in the west, winding across and through the city gradually getting wider, until it reaches the eastern coastal area where it enters the North Sea.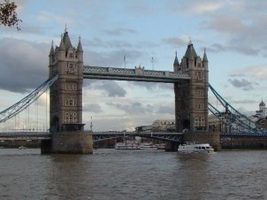 As well as being what I think is a great way to get a different perspective and a more relaxing journey through London, you can stop off and visit loads of places of interest( see below). I particularly love the old area of the South Bank and Bankside, where London began. The Romans set up their first settlement just south of London Bridge. From here they eyed up the more defendable higher ground across the water where they built their first fortifications, which eventually became the City.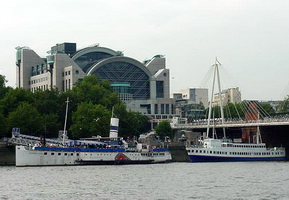 There are daily scheduled commuter boat services from the piers located along the river, from Putney (SW15) to Blackfriars (EC4) and return, and between Embankment east to Woolwich Arsenal Pier.
Boats operate from and to Putney during peak hours Monday to Friday between 06.20 and 08.00 (excluding public holidays).(06.55 from Embankment). Outside these times westbound boats terminate at Cadogan Pier. The last boat arrives at Putney at 19.50.Detailed timetables can be found on www.Tfl.gov.uk.
Tickets available are Single , Return, Carnet -10 journeys, Monthly.
To give you an idea of how long it takes to travel by water:
Putney - 5 minutes to Wandsworth (SW18,Riverside Quarter)
-10 Minutes to Chelsea Harbour(SW10)
-5 minutes to Cadogan Pier(SW3)
-15 minutes to Embankment(WC2)
-5 minutes to Blackfriars.
Evening departures are 18.10 arriving at Blackfriars at 18.45. A total of 40 minutes, which is a completely different experience from grinding your way through the traffic.
Services operate daily between Embankment (WC2)-first boat 06.57 and Woolwich Arsenal (SE18) weekdays from 06.00 to 0040 with separate timetables in operation at weekends and on public holidays-Westbound 08.38-21.10. Eastbound 09.38-18.22.
It takes about one hour for this trip.
Two shuttle services:-
The Hilton Docklands (SE16)-Canary Wharf (E14)Shuttle across the River Thames runs from 06.20 to 24.00. weekdays from 09.00 -24.00 on Saturdays and from 09.00 till 19.00 on Sundays.
The long established Woolwich Ferry (Free) :
Monday - Friday ……………….. 06.10-20.00 ( 2 boat service)
Saturdays and Public Holidays ……06.20-22.00 (2 boat service)
Sundays…………………………11.30-19.30 (1 boat service)
Information Telephone +44 (0) 8853 9400
There are also privately owned scheduled services between Richmond (St.Helena Pier), Kingston (Turks Pier & Town End Pier) and Hampton Court (Turks Pier) during the summer.
---
---
Leisure River Services: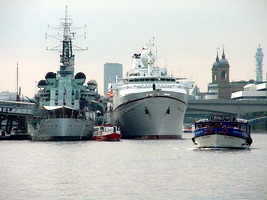 Circular Route, Westminster Pier - St.Katharine's Dock (E1)
Westminster-London Eye-Tower of London-Greenwich (SE10)
Westminster-Greenwich, Bankside(SE1) -Millbank (SW1)
Tickets available are Adult , Child, Freedom Pass, Family, Senior Citizens, Student and Roamer, DLR River Rover Pass, Travelcard, River Red Rover.
See www.Tfl.gov.uk for detailed fares and timetables for whichever route you want to take.
Leisure craft cruises include those to Kew, Hampton Court and the Thames Barrier.
As well as these there are also Lunch Cruises, Dinner Cruises and Sunday Lunch Jazz Cruises plus Jet Cruise boats.
There are many Private Boat Companies who operate from various places along the River Thames who offer cruises for private parties for birthday celebrations or whatever. Boats can be chartered for any occasion.
Places of interest from the River Thames West to East :-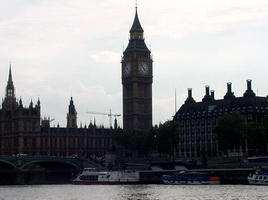 Hampton Court Pier: Hampton Court Palace
Kingston: Kingston Town, Rose Theatre, Market Square, where Saxon kings of England were crowned.
Richmond Landing Stage: Richmond Town, Richmond Theatre, Richmond Park, Royal Star and Garter Home, Poppy Factory( a long uphill walk), Ham House.
Kew Pier: Royal BotanicGardens, Kew Bridge Steam Museum (across the river in Brentford)
Putney Pier: Start of the Oxford -Cambridge Boat Race every Spring.
Cadogan: Chelsea Physic Garden, Royal Hospital, RHS Chelsea Flower Show every May.
Millbank: Tate Britain.
Westminster: Houses of Parliament, Westminster Abbey, Cabinet War Rooms, Downing Street.
Waterloo Millennium: London Eye, Imax Cinema, London Aquarium, Dali Universe, South Bank.
Embankment: Covent Garden, Trafalgar Square, Cleopatra's Needle.
Festival: South Bank Theatres, BFI Imax Cinema.
Blackfriars: St.Paul's Cathedral.
Bankside: Shakespeare's Globe Theatre, Clink Museum, Tate Modern, Vinopolis City of Wine, Borough Market, Golden Hind, Bramah Tea and Coffee Museum.
London Bridge City: HMS Belfast, London Dungeon, Hay's Galleria, Britain at War Museum, Old Operating Theatre (Guy's Hospital), Southwark Cathedral Clink Museum, The George -only remaining Coaching House, City Hall
Tower: Tower of London, Tower Bridge Experience.
St.Katharine's: Tower Bridge Experience, St.Katharine's Dock.
Canary Wharf: Canary Wharf Tower, Isle of Dogs, London Arena, Museum in Docklands.
Greenwich: Cutty Sark, National Maritime Museum, Royal Naval College, Royal Observatory, Greenwich Park, Greenwich Market.
QEII: O2 Arena.
Woolwich: Greenwich Heritage Centre, Firepower-Royal Artillery Museum, Royal Brass Foundry
Any questions? E-mail me
For tours, transfers and other taxi services see Dave's Taxi Page