Restaurants
---
---
Eating out in London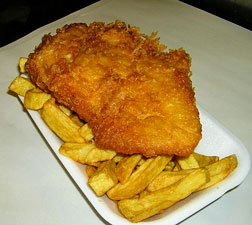 London is one of the best cities in the world to eat out. Quite a statement, but is it true? Yes, of course. Though how could London, as the representative of the British isles, which has tantalised the world for so many years with such dishes as bangers and mash, boiled potatoes and cold collation, have ever achieved such high status and respect in culinary excellence? Ironically I think the very reason is, that for the past hundred years or so, English cuisine has lagged so far behind in respect of producing dishes which display imagination and flavour. Though the dishes have been wholesome and hearty, they have also been disappointingly plain. Curiously, a sort of distorted pride of this below par cooking accompanied our opinion of it.
The dour times of rationing during the twentieth century must surely have stifled any imaginative recipes that might have been simmering in the mind of a prospective chef. But since those days, with immigration from virtually the whole planet, exotic travel and the whirlwind of the global economy, people were never again going to be satisfied with just their meat and two veg. (see Ethnic food below). Dining out is not just for the well to do anymore, but for the more worldly, affluent masses.
Think of London and you think of old pubs, pies, roast beef and fish 'n' chips. You can have all these old traditionals, plus traditionals with imagination, but you now also have endless possibilities of quality world cuisine and Michelin starred restaurants. In fact, apart from the restaurants like Rules and Porters, I feel that there is a renaissance of English cooking that is quietly bubbling underneath, such as at St.John in Clerkenwell.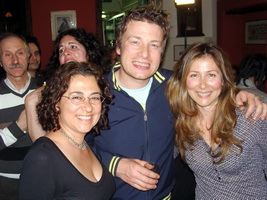 Since the 1980s, British chefs have emerged such as Delia Smith, Gordon Ramsay, Gary Rhodes, Anthony Worrall-Thompson, Rick Stein, Nigella Lawson, Jamie Oliver(photo) and the late, inimitable Keith Floyd (loved him having "Walking on the Beaches" as his theme music). They have sprung upon our television screens, written many cookery books which have educated us into new cooking styles and of course they have opened their own successful restaurants.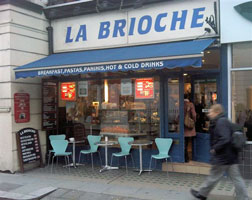 The 'foody revolution' has been a roller coaster sweeping through the country. I can almost hear the Parisians groaning in denial. First we got the Olympics and now we are respected for our food. Sacre Bleu! Vous culs Anglais! And yes, we know where you want us to stick our baguettes, which we can now bake just like you do!
Paris, I think, is unquestionably the king, or rather the president, of gourmet excellence. In Paris however, restaurants are predominantly French. London is variety to the nth degree.
A more detailed eating out guide is within each area, but here is a sort of working class and chronological upwards list of eating out since the 1800s, which will give the new visitor an idea of what to expect. Remember because London is such an expensive city, that prices will be relative to what you are used to. Wherever you are going, I advise you to book your table in advance to be on the safe side.
Tipping in restaurants, is expected at 10% -12.50%. This is often included in the service charge on your bill. There is no obligation to pay this if you are not satisfied with the service. I have heard of more than one instance where the tip is not being passed on to your waiter, so you can always check to make sure who gets the money, cancel the service charge and give something to your waiter.
Fish 'n' chips.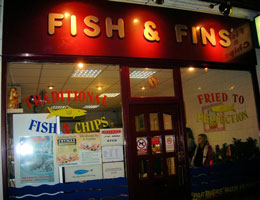 This was probably the original takeaway from the 1800s. There are hundreds of fish and chip shops and restaurants. The fish, usually haddock, cod or rock, is deep fried in batter, which is served with a portion of chipped fried potatoes (thicker than fries) and can also accompanied by mushy peas or a pickled gherkin (known as a 'wally'). Fish 'n' Chips, doused with salt and vinegar according to your taste, was traditionally eaten out of a newspaper on Friday or Saturday night, often after a drinking session in the pub, or was soberly taken home for the family for their tea. Because of the unhygienic acidity of newspaper print (chemical not political), the newspaper has long since been replaced by white paper. Fish 'n' Chips is not just a take away. Since the early days it moved upmarket with restaurants opening up throughout London, where the fish might be bread crumbed as an alternative, with the addition of other fish on the menu, such as Plaice or Dover Sole. Among the best nowadays, with an exciting and extensive menu which has left the traditional 'chippy' far in the past, is the Sea Shell in Lisson Grove (NW8), which prides itself on quality. The ever popular Fish Central, Central Street (EC1), the Rock Sole and Plaice, Endell Street, Covent Garden(WC2), which opened in 1874 and the North Sea Fish Restaurant, Leigh Street, (WC1), which still has an air of the past about it. Cost from the Fish and Chip shop is around £5.00pp. In the restaurants allow £18.00 pp.
Pie 'n' Mash
This is another taste of old London, which is probably less well known to visitors, but which you can still get at quite a few dedicated (and cheap) restaurants such as Manzes on Tower Bridge Road(SE1) and its other branches scattered around. Pie 'n' Mash consists of a meat pie served with mashed potato and liquor; the liquor being a green parsley gravy, or sauce. Manzes also serves the seafood which has traditionally been much a part of London life, especially in the East End, Jellied Eels and Stewed Eels. Manzes is famous the world over and is also a haunt of celebrities.
You can eat here for under £5.00.
Kebabs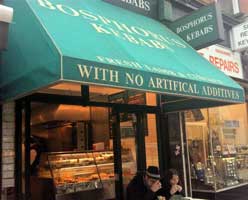 The kebab shop has been infiltrating London for quite a few years. I say infiltrating, because along the way it has acquired a dubious reputation. We have never really known what goes into that big lump of doner, or how fatty, chemical or salty it is; and where did its legs used to be? But we all feel better about the Shish which has the lamb pieces. Kebabs have been looked upon suspiciously by those who have higher aspirations when it comes to late evening dining. The measure of a good kebab shop seems to be that you would go in there even if you are sober, and there are many of those. Kebab shops line the high streets of London as beacons of post alcoholic nights out. They represent various nationalities from Athens eastwards. There are various combinations for various prices from around £3.50 to £7.00.
I have certainly no chance, or will for that matter to eat my way through London's kebab shops. It would take me years, but I can recommend the Bosphorus on Old Brompton Road(SW7). It is the best I have been in. Apart from the kebabs, they serve fresh salads, aromatic, minty taboulet and great garlic mayonnaise.
The London Café
There are cafes and there are 'caffs', in the London vernacular. Another name for the 'caff' might be the 'greasy spoon'. They are definitely not the Ritz. Caffs were, and still are, the places where the workmen go, but don't feel uncomfortable. Don't think that you will be entering an exclusive club. You might be a business man who is tired of driving who is needing something to eat. You will also have an outside chance of a funny handshake.
The caff is usually an unpretentious, no frills one room affair, which has a small curtain that is about a third or maybe two thirds the size of the window. It depends I think, on the aesthetic awareness of the owner. Inside you will see a collection of builders and tradesmen having their fry up breakfast or beefy lunch, before burning off all the calories later at work. Honest basic food is the order of the day, and real life of course.
London café institutions like the Bar Italia in Frith Street, Maison Bertaux, Greek Street, Patisserie Valerie, Old Compton Street, all in Soho are still going strong. Excellent cakes, pastries, coffee and lunches. Expect to pay more than you would at Starbucks, but here you have the atmosphere and individuality and you will be supporting the old café scene in London. Gaby's Deli, on Charing Cross Road serves great salt beef.
The upmarket London café is booming. London has become much more a café society. Those in Knightsbridge, Mayfair or St. James' are most definitely 'cafaays', like the Gloriette Patisserie or Richoux, with many other independent good quality ones of various nationalities spread throughout the postcodes. And I must mention one of the world's most famous, the Hard Rock Café by Hyde Park Corner, full of rock 'n' roll memorabilia and great for children's parties.
Pub Food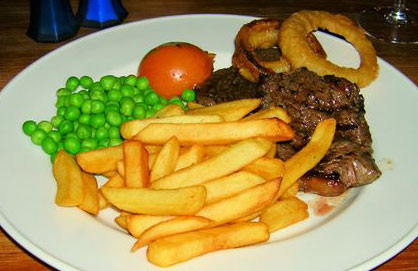 The spit and sawdust days are well and truly over. The rise of pub food has been phenomenal. Most pubs are now restaurants of one form or another, and children are allowed in many, but check first if you can. Pubs usually serve traditional dishes such as the Roast Beef Dinner, Steak and Kidney Pie, Fish and Chips and Shepherd's Pie, as well as maybe Goulash, Lasagne with salad or other pasta dishes and often a vegetarian alternative. Prices from about £4.00 for a sandwich to £15.00 for a more elaborate meal. There is usually a vegetarian alternative on any menu. There are thousands of pubs in London. You can double your pleasure by visiting one or more of the famous ones such as the Lamb and Flag, Rose Street (WC2),the Prospect of Whitby, Wapping Wall (E1), where you can eat with the waters of the River Thames almost lapping at your feet. The George Inn, Borough High Street (SE1), which Dickens loved so much, Ye Olde Cheshire Cheese Fleet Street(EC4), a haunt of Dr. Samuel Johnson, the WhiteHart, DruryLane (WC2), reputedly where the highwayman Dick Turpin used to drink in between robberies, or the 500 year old Ye Olde Mitre, Ely Place (EC1).
Gastro Pubs, are pubs which have metamorphosed from the local into something much more chic. They gradually emerged onto our streets, then they spread across London like wildfire, leaving the scent of profit in their wake, with menus that would never have been dreamed about years ago. Gastro pub menus have heightened the quality of the cuisine available, and certainly the prices. In fact they have been criticised by none other than Egon Ronay for overstepping their 'niche' in their pricing. But you have much better quality meals and these are cool places to be. Tearing the old traditional 'boozer' from its heritage, they have become particularly trendy and successful in those old London streets where everybody wanted to leave a few years ago, but which now are areas to which the nouveau riche are flocking.
In Clerkenwell (EC1),try the Peasant, St.John Street, or The Green on Clerkenwell Green, which was formerly an old brewery; in Islington (N1)the Albion, Thornhill Road; in the Cut near the South Bank, one of the best, the Anchor and Hope; in Chelsea (SW3)another one of the best, the Cadogan Arms on the King's Road, and down in Lots Road(SW10), the Lots Road Pub and Dining Room. As I say there are so many, so have a look through the separate London areas for the detail.
Bistros and Brasseries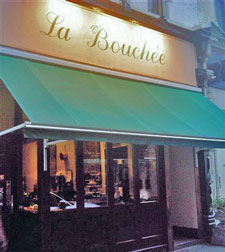 The bistro is typically a small, cosy, awning fronted establishment, which you will see in French towns. Sometimes it outstrips its definition and becomes much more grand. The Galvin on Baker street, describes itself as a 'grand ' bistro de luxe, and it has certainly elevated the traditional image of the intimate, wooden chaired café. There are many Bistros in London, which generally follow the tradition, even if they have a particular theme, be it French, such as the Bleeding Heart Bistro (EC1),Dutch, Italian, New York style, Belgian or Turkish. Meals can be simple, starting from about £8.00 like at the Bistro Italiano, Catherine Street (WC2).They are generally cheaper than the Brasseries which are much more upmarket affairs, such as the Michelin starred, No1.Lombard Street Brasserie, a former city bank building where over £40 per person is likely. In Soho there is the Café Boheme in Old Compton Street, in Camden Passage (N1), The Elk in the Woods,the Bumpkin in Westbourne Park Road, Notting Hill (W11).The Oriel in Sloane Square(SW1), La Brasserie, Brompton Road (SW3) and P.J's on Fulham Road opposite Sydney Street are really popular, but wherever you are, you will not be far away from a bistro or brasserie.
Taking Afternoon Tea
A most civilised English tradition. Expect to pay considerably (up to £40) for this sublime pleasure in such establishments as Claridge's, Brook Street(W1). The Ritz, Piccadilly or Brown's Hotel, Albemarle Street (W1) where you are expected to dress smartly.
Fortnum and Mason, the Queen's grocer, which is a short distance from both is cheaper. Also if you are a tea drinking aficionado try the Sacred Café in Ganton Street, Soho or the Teasmith, Lamb Street, Spitalfields (E1).
For Children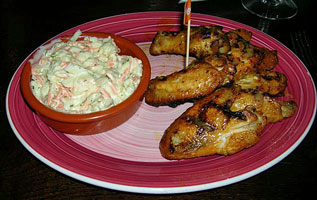 Where would we be without our children? Sane and rich maybe? Apart from the golden arches, burger bars and pizza by the thousand, where everybody seems to want to go, there are themed restaurants where you can spend even more of your money on your little darlings. As well as the Hard Rock Café there is the Rainforest Café near Piccadilly Circus, with all its fun animals, Tinseltown, St John Street (EC1) for milkshakes and movie lovers, Bill Wyman's Sticky Fingers in Phillmore Gardens, Kensington and get more sticky fingers at the Chicago Rib Shack, Knightsbridge and also balloons and party poppers.
Vegetarian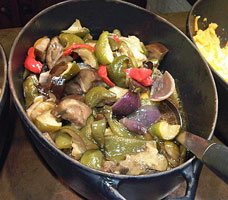 The opportunities to eat Vegetarian and or Vegan have increased tremendously, particularly due to the religious convictions and conscience of many, but also as a healthier alternative. Prices are about the same as with mainstream restaurants. I enjoyed my visit to the Diwana Bhel Poori, the Indian vegetarian restaurant in Drummond Street (NW1). But as there are so many now here are just a few of the ones I am asked to go to. Mildred's, Lexington Street, Soho. Not far away in Wardour Street is Hummus Bros and Eat and Two Veg in Marylebone High Street(W1).
Ethnic Food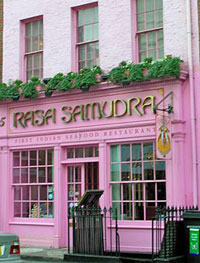 Although London has always been an international city, we have had our culinary eyes opened by the wealth of variety of world cooking that has arrived on our shores. The enormous gastronomical gap that emerged in recent times has been filled. This international influence has created what is in effect neo -british cuisine, and in turn has also added hundreds of funny foreign words to our vocabulary, which now trip off our tongues with a smugness that has to be admired. Foreign nationals who have brought their cuisine with them, have opened hundreds, if not thousands of restaurants throughout the capital. I have to mention Brick Lane(E1) is the most fantastic place for curry, but don't forget Beigel Bake at the top end near Bethnal Green Road for the cheapest beigels in London, and once again great salt beef.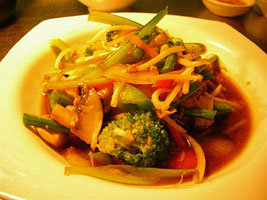 Cuisine from India was the first to arrive in the 17th century then the Chinese. Now we can run through the alphabet with almost every country and style represented in London; from Afghani to Vietnamese, so there are still a few spaces, especially if some new countries are discovered, there is room. London does have an actual Chinatown, in fact they have had several, starting with one in the East End. The current Chinatown is in the Soho area of the City of Westminster, near Gerrard Street. It contains a number of Chinese restaurants, bakeries, and supermarkets.
Restaurants
I believe there are around six thousand restaurants in London, from the modest bistros, thorough the chains like Café Rouge, Carluccio's and Chez Gerard to the growing number of those have been awarded Michelin Stars. Greater reviewers than myself, which means most of them I think, will still never cover all of them. You can enjoy eating in London for much less than you might expect. This obviously depends or your current currency exchange rate. I am doing my best to include a fair selection of cheap/moderate/expensive in each area from the vast choice available. This includes not only the most visited central places but farther out, even maybe the suburbs of London.
See also English Cuisine
Any questions? E-mail me
For tours, transfers and other taxi services see Dave's Taxi Page
---
---