I thought I would exercise a more luxurious approach in this section and devote a considerable space to the very popular English pastime known as the Pub Crawl or 'doing the pubs' as it is usually referred to in Soho.
I would not want to encourage excessive drinking or alcohol abuse, but the pubs of Fitzrovia are excellent establishments in which to spend a couple of hours. If wives want to shop 'til they drop in Oxford Street, here is a place where the men can escape for a while, or maybe vice versa. The pubs are situated close together so it is easy to do the tour without exhausting yourself.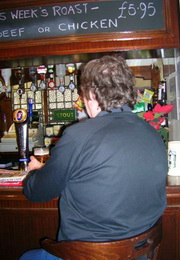 This mystery drinker is the celebrated, nay, legendary journalist Tony Dennis. Tony is living testament to the oxymoron 'sober journalist'. In this photo Tony is frequenting the Wheatsheaf in Ewell, Surrey. Having worked in Soho for many years, Tony, like his forbears, is also familiar with frequenting the many pubs east of Regent Street, in Soho and Fitzrovia. I am sure you will agree that it is fitting he maintains these literary links with Fitzrovia's past, and he does so most conscientiously on a regular basis.
Here are the seats in The Fitzroy Arms, on which you might see Tony, possibly on a Monday. He may also be in any one of the pubs mentioned below. Sorry, there is no prize for you if you happen to recognise him from the above photo. But if you meet him, why not buy him a drink?
Here is Tony's Tour of the Pubs of Fitzrovia .
There are more to come as he says.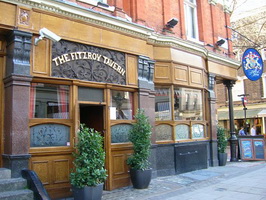 Enter Fitzrovia from Tottenham Court Road underground station. Within a few yards on the north side of Oxford Street (the Fitzrovia boundary), you'll encounter the Tottenham which is the only pub on Oxford Street itself. Walk along Oxford Street – past Hanway Street - where all the best late nite bars reside – and you'll reach Rathbone Place. A few quick steps will bring you to the Black Horse which is painted in every other colour save black. Now walk further up Rathbone Place and you'll reach the Wheatsheaf – once a prime comedy venue like the Black Horse. Exit the Wheatsheaf and to your right in Gresse Street you'll see the Bricklayers Arms which gets crowded very swiftly. So carry on up Rathbone Place until you hit the Marquis of Granby which is in the middle of Rathbone Place and Charlotte Street. Go left up Rathbone Street and you'll walk past a little pub which prides itself on serving pies called the Newman Arms. Past that you hit the Duke of York which is a real locals' pub. Forced right you then reach Charlotte Street and almost opposite is the Fitzroy Tavern. The name Fitzrovia is taken from the writers who used to frequent this public house. The area isn't named after Fitzroy Square nor is it called Noho – even though estate agents try to introduce this name since it is the logical extension to Soho – being north of Soho Square.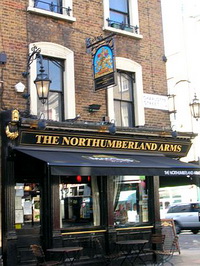 Drag yourself out of the Fitzroy Tavern and further up Charlotte Street you'll encounter the Northumberland Arms. As there's another Northumberland Arms in Fitzrovia, this one is nicknamed the Board Room after the important meetings that take place inside this establishment. Now it is time to go west young man! Head off down Goodge Street towards Mortimer Street. On the north side you'll see a fine Young's pub, the One Tun. Across the road was the Cambridge but that's been turned into a trendy bar of late called Ping Pong. If you carry straight on you'll hit another continental style bar, Mortimer's. Should you really want to pose, turn left down Berners Street and go into the bar of Sanderson's Hotel. The hotel is named after the wallpaper company which previously occupied the premises.
So the obvious route is not to carry straight on into Mortimer Street but to turn north up Cleveland Street. Within a few minutes you'll encounter the King and Queen, another great drinkers' pub.
But you've gone too far. Retrace your steps back down Cleveland Street and hare off up Riding House Street. After a little while you should hit the Green Man. Further on, don't miss out the King's Arms which is on the corner of Riding House Street and Great Titchfield Street. Now head off (right) up Great Titchfield Street until you hit the Rose and Crown on the corner.
Now it's time to head back so head south down Grt Titchfield Street until you hit Mortimer Street again. Now turn right and you should be able to see the George (and Dragon) just up ahead on the corner of Great Portland Street. The George is a favourite but if your funds are low, the Cock – a Sam Smith pub, is further down Great Portland Street. By this time you should be absolutely smashed. Luckily Oxford Circus tube station is nearby. Just carry on down Great Portland Street until you hit Oxford Street and then turn right. You have reached the furthest west part of Fitzrovia by this stage. Incidentally, Great Portland Street and Warren Street tube stations were also a stiff walk away which could help you to sober up a bit.
Next time we'll switch to an entirely different starting point and routes to seek out even more of the numerous pubs in Fitzrovia. Maybe next time, we could discover the Blue Posts and the Champion which sadly had to be left out this time.
Thank you Tony!
As you would expect, being so close to Soho, which was itself the centre of bohemian life for so long, Fitzrovia has hosted, has witnessed the excesses of those of an artistic nature, and it has been their home. Those who have left their imprint on literary history, have stimulated intellectual thought, have left a colourful history of their living and who are now long gone. Those, who in their passing, created its soul.
How times have changed! Quite a few years ago some flower- filled hanging baskets were hung from the lamp posts in Great Titchfield Street. The City of Westminster found it necessary to install metal notices underneath each basket to explain why it was hanging there, the explanation being, 'to give decoration and colour to the streets of East Marylebone', or words to that effect.
Would you have thought otherwise? Why else would they be there? This is indicative of the patronising disrespect to our intelligence that prevails. What would have been the response of Dylan Thomas, had he still been alive and seen the the notices? Probably quite verbal I would think. What price the return of Bohemia? At the very least I would expect the City of Westminster not to waste our time and our money stating the obvious.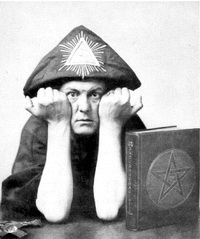 How ironic it is, that had George Orwell been walking the streets of London today, he would have his every move monitored by the thousands of cameras that have been installed just about everywhere. Had they only thought to do this centuries earlier we would have had endless videos featuring such luminaries as Dylan Thomas, Paul Verlaine, Arthur Rimbaud, Irish Poet Patrick Kavanagh, writer/actor Julian Maclaren -Ross, writer Virginia Woolf, father of communism Karl Marx, painter Ford Madox Brown, artist and critic Roger Fry, politician and visionary Aneurin Bevan , Augustus John, George Bernard Shaw and artist/raconteur/mistress Nina Hamnett; plus other visitors such as flamboyant homosexual rights campaigner Quentin Crisp and the 'Beast Himself', magician, Aleister Crowley as they shopped, walked their pets or stopped on the street to chat with each other. Whatever purposes these cameras have I can only guess, but one hopes that it is so future generations can see what life was like for us. But I suppose this is unlikely.
Tube:- Regent's Park, Great Portland Street, Euston (National Rail), Euston Square, Warren Street, Goodge Street, Tottenham Court Road, Oxford Circus.
Any questions? E-mail me
For tours, transfers and other taxi services see Dave's Taxi Page