This is a great event that stands up for body freedom and protests against oil dependency and car culture which is poisoning the planet; promoting cycling and green energy during the process.
Nevertheless perhaps there is still enough of a shock there to make a political point. Strange isnít it? People are shocked to see a naked person outdoors, but can go home and look at themselves naked in the mirror and not be.
Hundreds of other naked bike rides take place across the world.
Naked bodies, painted bodies (some really artistic) and fancy dress along with the great atmosphere makes for a fun and funny afternoon. A good natured expression of freedom. Long may it continue.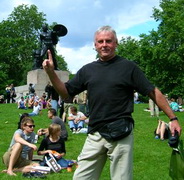 If you feel strongly enough about the subjects being addressed then you can always join in next year.Only a few dozen people took part in 2004,but that number has grown to well over a thousand in 2008. The acceptance of the naked body is more common now as we break away from the taboos previously imposed on us. It is ironic that this bike ride passes by the statue of Achilles. This was the first nude (almost) male statue in London and dates from much more prudent times.
Any questions? E-mail me