Private Hire (Minicabs)
---
---
Since 1961 when minicabs first arrived on the streets of London there has been much rivalry between them and the legitimate Licensed Taxi Trade. Minicabs were allowed to operate with virtual impunity and often illegally, whilst the Taxi Trade had always been stringently controlled.
Eventually, in 2001 after years of lobbying and deciding on a suitable system, the process of licensing minicabs was started, with the final phase beginning in 2004.
Operators and drivers are licensed. Their vehicles have to undergo a six monthly safety check. The driver is also supplied with a credit card sized licence which must be displayed whilst working. If this is not available, then a Driving Permit, which is issued by the Public Carriage Office must be available.
All private hire journeys must be pre-booked by contacting the operator's premises, usually by telephone. The Private Hire Driver, unlike a Licensed Taxi Driver, does not have to complete the Knowledge of London. In Private Hire Vehicles satellite navigation systems are generally used to aid the driver to find their way around London.
Private hire vehicles come in all shapes and sizes, from two door cars to Rolls Royce Phantoms. As you would imagine, there is quite a difference between the hiring charge of these two examples. Many private hire vehicles though are MPVs/People Carriers.
Minicab fares are not regulated nor do they have to use a fare meter. They rely on the local and general competition to create their fares structure. Make sure you know exactly what you will be paying before you travel.
Private Hire Licences -a holographic diamond shape within a circle -are displayed in the top left front and rear windows of the vehicle.
Unfortunately there are still unlicensed (and licensed) drivers who are tempted to tout for business on the streets late at night; in the City of London, outside clubs, bars, restaurants and other events. Heathrow Airport has always been a target for touts. Not only is this practice illegal, but any insurance held by the driver is nullified because the vehicle will not have been pre-booked. It does not count if you have telephoned the driver direct as proper records must be kept at the Operator's premises. You will not be insured if you take a ride after being touted. I advise you not to enter any of these vehicles.
The Mayor /Transport for London has instigated a 'Know what you are getting into' campaign in order to make travel in London safer, especially for women travelling home late at night. This is supported by The Metropolitan Police, all legitimate and legal forms of transport and Heart 106.2 radio.
To order a minicab, for a small charge you can use the CABWISE Text Service -Text HOME to 60835.
You will receive two local minicab numbers and 0871 871 0871 which is the Taxi One Number.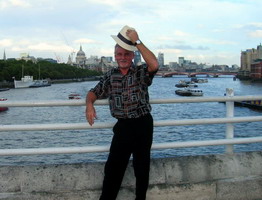 My name is David Bromiley. I have been a Licensed London Taxi Driver for many years having passed the famous 'Knowledge of London' back in 1984. As many will already know, the 'Knowledge' is the strictest testing system for prospective taxi drivers in the world. As I am an Official London Guide it will be my pleasure to escort you on private tours of London, during which you can ask as many questions as you like and stop to take photographs wherever you want to. There are various aspects of London life that can be incorporated into a tour with a particular theme. Whatever you would like to do just contact me at my email address below. I hope to meet you soon. brommers1@ntlworld.com