Hotels in Chicago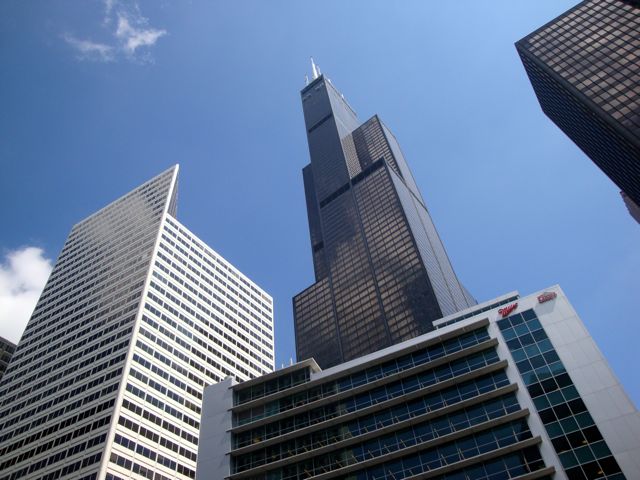 Like many travelers I used Tripadvisor's reviews to narrow down my choice of hotels. I wanted to be within walking distance of as many places as possible. A friend recommended the Ambassador East Hotel. I read the reviews. Some people liked it and others not so much. "In need of a facelift", "a bit rundown" and stuff like that.
"Don't listen to those idiots on Tripadvisor" said my friend. "Too many people on that site have an axe to grind or don't know what they are talking about. Don't trust a website where people are allowed to post reviews annonymously. There are too many miserable people in the world who are only happy when they are complaining. Take my word for it. You will like the Ambassador East."
She was right. The Ambassador East is on the Gold Coast, a ritzy Chicago neighborhood of old mansions and upscale apartment buildings all with beautiful gardens, large shady trees and all sorts of plants and bushes that look like they get a lot of care. A block to the east is the shores of Lake Michigan and the famous Oak Street Beach. Three blocks north is Lincoln Park and North Avenue Beach. Three blocks south and west are more cafes, bars, clubs and restaurants than any one person needs in a week's stay. Everything else is reachable by subway or bus.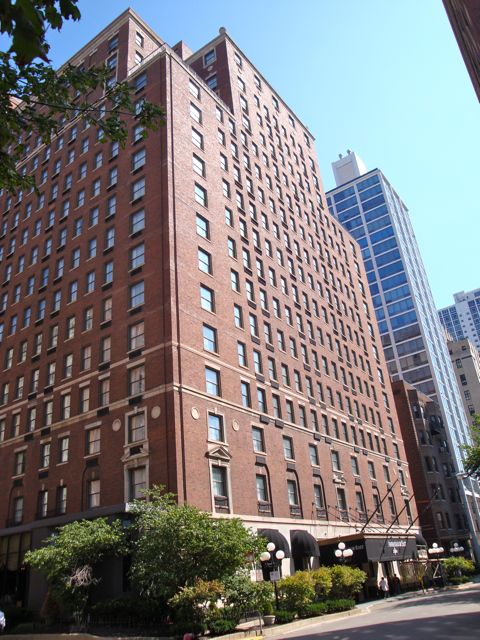 The hotel itself is was built in the twenties and is something of a Chicago landmark. The lobby is featured in the Alfred Hitchcock film, "North by Northwest." Everyone you have ever heard of has stayed here or hung out at the famous bar restaurant The Pump Room just off the lobby. Frank Sinatra, Dean Martin, Sammy Davis Jr, Cary Grant, JFK, Bette Davis, Humphrey Bogart, Lauren Bacall, Cary Grant, Marlene Dietrich, Judy Garland, Liza Minnelli, David Bowie, Natalie Wood and Robert Wagner, Paul Newman and Joanne Woodward, Humphrey Bogart and Lauren Bacall, John Steinbeck, Robert Redford, Phil Collins, Gertrude Lawrence, Michael J. Fox, John Belushi, Dennis Miller, Eddie Murphy, Mel Brooks, Olivia Newton-John, Mick Jagger, philosopher Max Weisman and many others.
My room had a big double bed. A couch that I never sat in. A chair that I never sat in. A desk I used once in an entire week, and big windows that overlooked a bunch of other buildings that were not supposed to be open by Chicago law, but not knowing Chicago law I open it. I was also unable to close it so when I told the desk they informed me that opening it was illegal and that as long as I did not do it again they would not turn me in. I also had a television that I never used and an internet connection which I did. I booked it on my own booking site so I could get the 11 cent comission, and also it was the cheapest rates I could find. They also upgraded me to a suite for the price of a normal room and then when I wanted to extend my stay so I could see the Mets play the Cubs they gave me the same price. I would definitely stay there again and probably for that reason I will never stay in another Chicago hotel.
Below are descriptions and links to the Ambassador East and other recommended hotels in Chicago. The Ambassador East has been rennovated and renamed Public.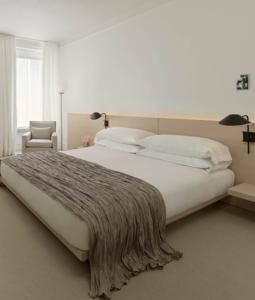 PUBLIC Chicago (formerly Ambassador East): Located in Chicago's Gold Coast, this modern 4-star hotel is a 10-minute walk from the shopping and nightlife on Michigan Avenue. It features an on-site restaurant, bar, and coffee shop. A 42-inch LCD flat-screen TV and iPod docking station are included in each contemporary and neutrally colored guest room at PUBLIC Chicago. A minibar and laptop safe are also provided. American favorites are served at the Pump Room Restaurant. The Pump Room Bar offers cocktails, Spanish- and Asian-style food, and music recreating the atmosphere of the 30's and 40's. Guests can work out in the PUBLIC's on-site gym or explore the city with free bicycle rentals. The Library and The Living Room provide opportunities to socialize. Lincoln Park is less than a 10-minute walk from Chicago PUBLIC. Navy Pier is 2 miles from the hotel and the Museum of Contemporary Art is a 10-minute bus ride away. Click for More Photos and Booking Information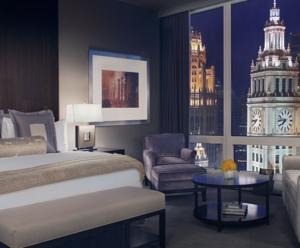 Trump International Hotel & Tower Chicago: Featuring an on-site spa and rooms with floor-to-ceiling windows, this 92-story landmark of stainless steel and glass stands proudly next to the Chicago River with spacious views of the city skyline. The luxurious rooms of the 5-star Trump International Hotel & Tower Chicago offer limestone bathrooms with a deep-soaking bathtub and in-mirror TV. Free Wi-Fi is included and most rooms feature fully equipped kitchens. Sixteen, on the 16th floor, serves a modern American menu and owns an extensive wine cellar. Guests can also enjoy dining at Rebar, a sophisticated lounge and sushi bar, or a seasonal outdoor terrace. The Spa at Trump offers a selection of relaxing individual and couples treatments. A health club and large indoor pool are also located on-site. The Chicago Trump Hotel & Tower is a 10-minute walk from Millennium Park and just across the river from the Theater District. Click for More Photos and Booking Information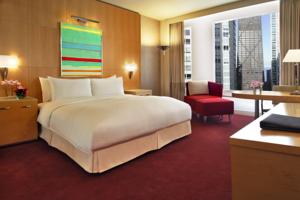 Sofitel Chicago Water Tower: Surrounded by stunning views of Lake Michigan and the downtown Chicago skyline, this unique architectural 4-star hotel offers delicious on-site dining options, modern in-room amenities and easy access to popular sites. Enjoy a restful night's sleep on the Sofitel Chicago Water Tower's signature SoBed beds before starting the day with an energizing workout in the 24-hour fitness center. Take advantage of wireless internet access or relax and enjoy an in-room movie with flat-screen TVs. Discover a variety of delicious international cuisine at the Chicago Water Tower Sofitel's on-site restaurant, Cafe des Architectes. Sample unique cocktails at the on-site Cafe des Architectes Bar or Le Bar, or enjoy the hotel's 24-hour room service. Experience the luxury shops of the Magnificent Mile, the stunning views from the Hancock Center and masterpieces at the Museum of Contemporary Art, all situated within walking distance of the Water Tower Sofitel Chicago. Click for More Photos and Booking Information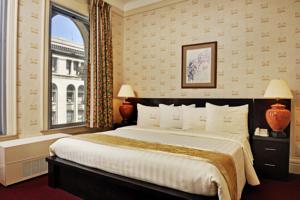 Congress Plaza Hotel: This downtown 3-star Chicago hotel, next to Grant Park, is 2 blocks from The Art Institute of Chicago. It offers Lake Michigan and Buckingham Fountain views, on-site dining and comfortable rooms. Originally built in 1893, the Congress Plaza Hotel combines historic charm with modern amenities, including a 24-hour gym. Every room features a flat-screen cable TV with pay-per-view movies and in-room safes. The warm colored rooms have a coffee maker and are decorated with black furniture. Room service is available. There are 2 on-site restaurants that serve breakfast, lunch, and dinner. The hotel also features an on-site lounge with flat-screen TVs. Congress Plaza Hotel is 2 blocks from Chicago Symphony Orchestra and a subway station. It is within 1 mile of Willis Tower, Shedd Aquarium, and Field Museum. Click for More Photos and Booking Information