Greektown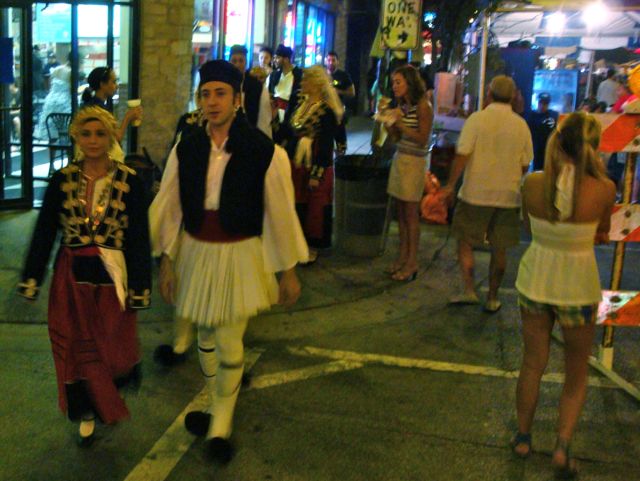 "Don't get your hopes up about Greektown. It is not like you are in Greece" my friend said to me. But I am familiar with Greek neighborhoods from a thousand visits to Astoria and I was not expecting evzones and koulorakia vendors. Greektown was just as I pictured it. And I even saw evzones and kolourakia vendors. But the whole neighborhood comprises only a few blocks of Greek restaurants, bakeries and gift shops just across the JFK Expressway which seperates it from the rest of downtown Chicago. From the looks of it the building of the JFK destroyed the houses and businesses of the Greek neighborhood that Harry Mark Petrakis wrote about in his book Nick the Greek which was the one thing I read in preparation for my trip. What is left is called Greektown. There are about a half-dozen Greek restaurants, all so successful they strain to contain themselves within the buildings that hold them. There is a Chicago joke that they all get their food from one communal kitchen, their menus being so similar. If you ask anyone which is the best everyone has a different opinion. There is no clearcut best Greek restaurant, at least not in Greektown. That is not to say that there are not better Greek restaurants in other parts of Chicago. But more on that later.
Now keep in mind that I had just returned from three months in Greece so eating Greek food was not on the top of my list of things to do. But I had happened to come during the annual Taste of Greece Festival, where South Halsted Street is closed to traffic and filled with people and food. Each restaurant had a large stand outside with Greek food more delicious looking than I have ever seen at any Greek church festival. There was a Greek band playing on each end of the street and a solo bouzouki player in the middle. A woman sat amongst baklava and kataiffi and read fortunes in Greek coffee cups. There was a guy playing bouzouki while his friend sold his How to Play Bouzouki CD. The hip young guys who run the website Daily Frappe, a website for Greece Enthusiasts had a booth as did the Hellenic Museum and Cultural Center, their booth right by the construction site that became their new home in September of 2011. I would say that if you can't make it to Greece and you survive the summer then try to come to Chicago for A Taste of Greece. I guarantee that it will surpass any Greek church festival you have ever been to and if you enjoy being somewhere that the food all looks so good that you can't decide what to eat, then you will probably want to spend several days at the festival. It is also a good place to meet other Greek-Americans.
Greek Restaurants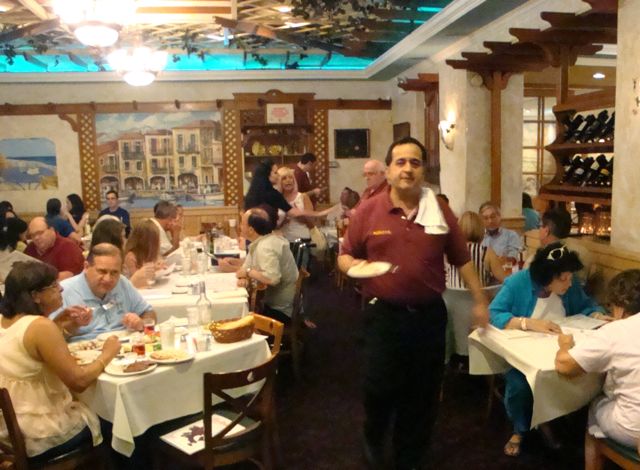 In the days which followed I made a couple return visits to Greektown. I had a meal at Rodity's restaurant which was very good, and another restaurant called Venus which had the most varied menu, mainly because it was not Greek but Cypriot. Rodity's is considered by many, the most authentic and the best value of all the Greek Restaurants in Chicago's Greek Town or so it says on their website. Honestly the prices all seemed pretty much the same and though there were differences in the menus, it is in areas most causual Greek eaters usually don't get to, since they stick with the basics: mousaka, pastitsio, souvlakia and spanakopita. Coming from Greece the Greek restaurants in Chicago seemed pretty American. But coming from North Carolina they seemed heavenly. Greek Islands restaurant imports its own extra virgin olive oil, wine, cheeses, seafood, olives, herbs and spices directly from Greece and uses only healthy, natural and fresh ingredients in their cooking. They also feature wines from Monemvasia in the Peloponessos which certainly makes it worth trying since that is the area where I am from. Pegasus was selected by Chicago Sun-Times Dining Critic Pat Bruno as one of the Top 10 Restaurants in Chicago and has a large rooftop patio. Santorini specializes in include Greek Style Whole Red Snapper and Whole Black Sea Bass, flown to Chicago and filleted at your table and the owner was pretty cool too.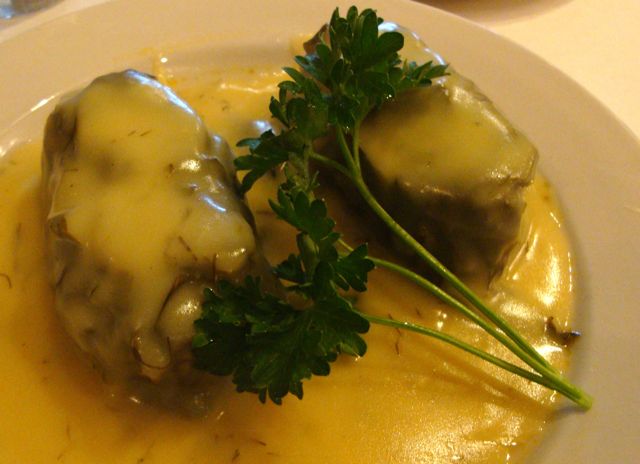 I visited several restaurants and spoke to the people working there, many who were from around Sparta where my family comes from. My feelings about Greek restaurants in the USA is that they mostly cater to American tastes, even those that started out as Greek restaurants for Greeks. For me the food is secondary to connecting with the people who own and work at these restaurants (assuming that they are still Greek) so I don't have very high expectations. So if you are wondering which restaurant is 'best' you may have to look elsewhere than this site or maybe even Greektown. When a restaurant becomes as successful as those in Greektown, often corners have to be cut to handle the volume of business. So you may get a small Greek salad with ice crystals on the lettuce that leaves you wondering whether there is an olive and feta shortage in the world. You may get tarama-salata that came right out of the jar augmented by nothing but a lone kalamata olive right in the middle of it. You may get kalamaria fried and left under a heat lamp for the waiters to scoop into plates. But if you go for fresh grilled fish, grilled meats, and whatever oven dishes were made that day you probably can't go wrong. When you sit down just ask the waiter what the Greeks who eat here order mostly. Act like you know what you are talking about, that you know Greek food, and you want to eat something that will make you feel like you are in Greece, not Greektown. And try to get a Greek waiter. If none is available ask for the maitre-de. Most of these places specialize in flaming saganaki, something you won't find in Greece, but in Chicago makes a spectacular floor show.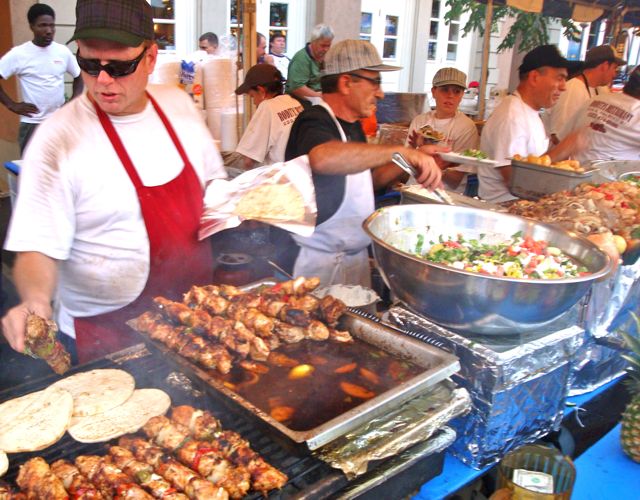 As for what to drink here's the deal. Most of the ouzo exported is not that great, made by large corporations, many of which are no longer Greek. If you are drinking ouzo it should be from Lesvos, preferably Barbajiani (though Plomari and Mini will do if that is all they have). Achia Clauss (Very Greek name right?), Sans Rival and Metaxa are for those who don't know ouzo from licorice flavored rubbing alcohol. As for wine the only people who drink Domestica are Americans who visited Greece in the sixties. I can't remember the last time I saw a bottle of Domestica in Greece. For Retsina Kourtaki is not bad which is not to say that it is good. But if you get a good batch it tastes a lot like retsina used to. Malamatina is decent too. Voutari and Hatzimichalis are good wines. Both are big companies though but it is unlikely you will find wine by smaller wineries in Greece. But it does not hurt to ask. You can also ask if there is any wine that the restaurant itself imports and try that like the wines from Monemvasia, which I love, served at Greek Islands. Usually it is something they tasted and liked and had their label slapped on it, unless it is something made by a friend or a cousin who they are helping out. But there is only one way to find out and that is to taste it and finding a good bottle of local wine in the $20 range is a more rewarding feeling than buying a $40 bottle of Hatzimichali and not liking it. Don't drink Mavrodaphne with your meal. If you must drink it at all drink it after so it can't spoil the taste of your food. If you want to know more about Greek wine see my Greek Wine Pages.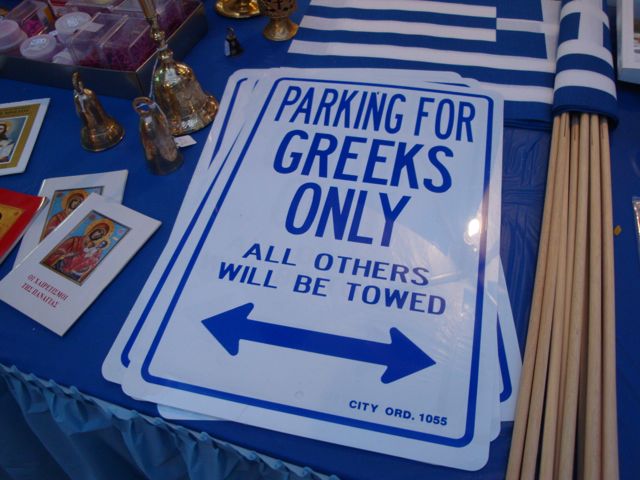 There are several zaracharo-plastion style bakeries where you can get cake and pastries and even a frappe and a greek coffeee. The biggest and most popular is Artopolis which goes well beyond the boundries of your typical pastry shop and features a variety of breads, pizzas, sandwiches, salads, and Greek dishes. The dessert menu includes specialty coffees and organic teas. A selection of Greek beers and wines is also available and they have a section that is like a Greek supermarket. You can even by icons and Greek statues as well as a large selection of Greek wines, the biggest I have seen in the states.
The Athenian Candle Company on the corner of Jackson and Halsted's streets is one of those shops that probably looks today as it looked 60 years ago when they opened it. The candles are made in the back, and sold in the front along with all sorts of religious items, orthodox, pagan and otherwise, herbs and magical concoctions, deodorent sprays that will make you rich or lucky, or remove jinxs or the evil-eye, and books that tell you how to cast spells for finding love, making money or protect yourself against evil. There is a big sign that says 'No Photos'. I don't know why. It bugged me so much that I secretly took photos. But none of them came out. Maybe there is some kind of spirit that messes with the camera lense and it isn't that the shop owners don't want you photographing the contents of their shop, but they are protecting you from mischievous spirits who will mess with your camera and waste your film. The shop used to be at Polk and Halsted streets--now the site of the University of Illinois at Chicago. It makes me wonder how much of Chicago's Greektown was torn down to build the university and the JFK Expressway. I suppose it does not matter. What is important is how much can Greektown be rebuilt and can it re-invent itself as a center of Hellenic culture instead of a place where Chicagoans go to eat Greek food once a month?
Oh yes, and as I mentioned before about Greek restaurants outside of Greektown, the general consensus among hip young Greeks was that Taxim at 1558 N Milwaukee Ave is the place to go for exceptional Greek food. But if you go to the bottom of my Chicago Restaurants Page you will find a list of the best Greek restaurants.
Hellenic Museum and Cultural Center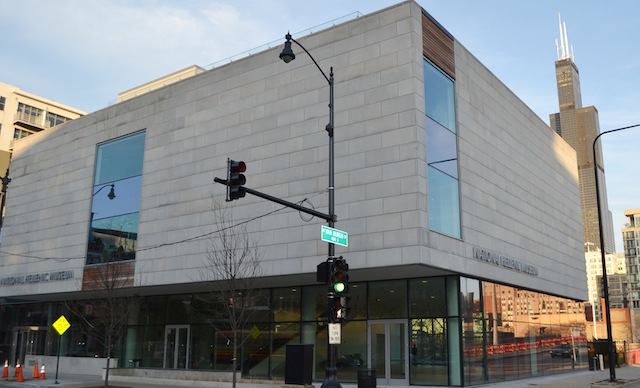 The pride of Chicago's Greektown, or at least I would be proud of it if I was from Greektown, is the Hellenic Museum and Cultural Center. The Museum is the premier institution for sharing the Greek story which laid the foundation for Western civilization, contributed to the building of America, and continues to innovate today. Its mission, connecting generations through Greek history, culture, and art, is brought to life every day through imaginative exhibitions, educational programs, workshops, lectures, book signings, and the preservation of Greek art and artifacts. Their new 40,000 sq foot building opened in the fall of 2011 and should be on the list of places to visit of every Greek and Greek-American in the USA and Canada. Dubbed "the newest thing in ancient history", the museum plays host to interactive permanent exhibits and temporary shows, a children's education centre, research library, oral history centre and other amenities. Its mission is to preserve and explore Hellenism and to chronicle the Greek American journey – following the immigration of tens of thousands of Greeks to the US, mostly in the mid-20th century – through exhibitions, oral records, archival collections and educational programmes. The hope is that this will be the beginning of a project that will turn Chicago's Greektown into the kind of place where those of us who can't afford to visit Greece every year, can come to meet and make friends with other Greeks who have chosen to make a life for themselves in the USA. For more information visit the website of the National Hellenic Museum.
---
Return to Chicago Index